More screen shot & download :
go to download page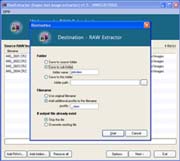 Envirenment:
    - Licence Type : Freeware
    - Platform : Windows 2000,XP,2003,Vista,Win7
If you need to take an important picture, you might want to take all the things related with that.
Then you can enable digital camera's raw feature because of its outstanding quality, and compensation function for editing.
But it's not comfortable to see the pictures taken by RAW feature.
Because it takes long time to convert RAWs to JPEG Image files.
But if you use this RawExtractor, It's not uncomfortable anymore, which can convert all raws to jpgs only in a few seconds.
Converting RAWs to jpg, you can get JPG files with the information such as shooting date, rotation data, exposure, shutter speed, ISO speed, etc... that's kept in RAW files.
You can  keep memo that is converted from the raw,
and you can also assign the saving folder location on each files.
RawExtractor supports almost all cameras including
  Canon, Nikon, Pentax, Samsung, Olympus, Fujifilm, Minolta, Sony, Kodak and Panasonic.